Baby bison stuck in badger hole saved by rancher
Derrick Schaefer said it was surprised the calf's mother wasn't more aggressive
What do you do when a baby bison gets stuck in a badger hole? This was an unexpected question rancher Derrick Schaefer had to answer in early May.
He'd been watching a particular bison cow and its four-day-old calf on his farm in west-central Saskatchewan, near Meota, because the calf had been born early.
When he went to check on them, he saw the cow off by herself away from the herd, so he decided to investigate.
"Here it was, the bison cow that had the premature calf and the calf had fallen backwards down the badger hole," Schaefer told CBC Radio's Afternoon Edition.
Bison aggressive at breeding time
Now he faced a problem: Bison cows are extremely protective of their calves, and bison are more aggressive at breeding time than other times of the year.
Against his better judgment, he drove his truck right next to the hole, opening the door to make a wedge between him and the bison, even though he knew it wouldn't make much of a difference if she did charge.
"It was an imaginary barrier for me," he said. "There was a lot of adrenaline involved."
He could see that the cow had been working at the hole — dirt around the hole had been moved and its hair was muddy from being licked.
Adrenaline racing, he kept a close eye on the cow as it paced back and forth about 10 to 15 feet away. He got the calf's front legs out but had a harder time getting its back legs out.
"I just kept working on that little calf, moving him around, turning him a little bit, and finally he popped free of the hole."
The calf was weak when it got out of the hole and it struggled to stand but after a few minutes, it found its legs and went straight to Mom for some milk.
Schaefer said the calf was stuck in the hole for less than 24 hours because he had checked on that cow and calf the day before. About a month later, since the incident, the calf is doing fine.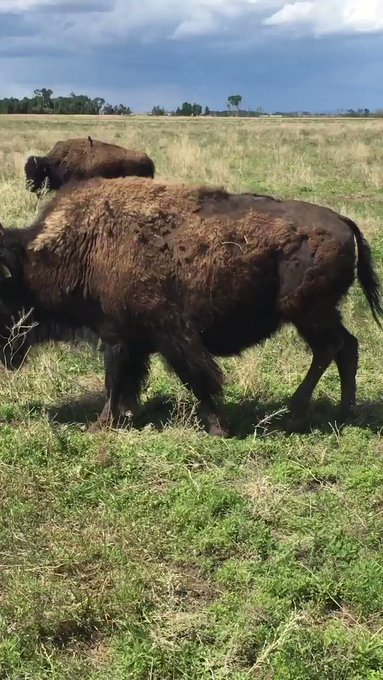 Derrick Schaefer

@Bisonrancher


Replying to @Bisonrancher
Here's an update on how c94's badger hole calf is doing.
2:21 PM - Jun 5, 2018
While he won't speculate on whether the cow knew he was helping, he did say he's surprised the cow wasn't more aggressive.
"The average bison for sure wouldn't have put up with this, but the average bison doesn't have a calf in that predicament, that's for sure."
This is the first time he's had a calf stuck in a badger hole, but since he posted this story online, he's heard from other beef and bison ranchers who've been in a similar predicament.
"I'm sure glad I was able to help that little calf out."
Original article can be found Here